Bourgeois Meat Market
Stop by this old-fashioned Cajun meat market specializing in fresh cuts of meat as well as beef jerky, boudin, hogshead cheese, turkey cheese, and many other Cajun products.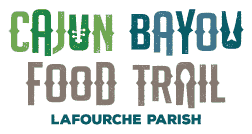 Enjoy home style Cajun cuisine and sandwiches including daily lunch and drink specials.
Off the Hook is a quick-service restaurant serving up authentic Cajun cuisine. Living up to its name enjoy Cajun classics like fried catfish or seafood gumbo. Or try out their variety of po'boy selections and finish it off with their classic bread pudding dessert.