Spahr's at the Station
Proudly serving the communities down the bayou, Spahr's at the Station is the go to spot for fresh caught seafood and Cajun comfort food. With their original location founded in 1968, Spahr's Seafood still uses the same authentic Cajun and Creole recipes passed down through generations. Stop in and taste their signature catfish chips, Bloody Mary, seafood gumbo, or come in for breakfast and enjoy the pain perdu.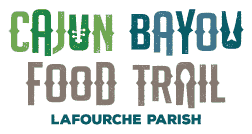 Located right in the heart of Downtown Thibodaux, enjoy the comfort of Cajun cookin' for breakfast, lunch, and dinner! Start your day with the Bourgeois Omelette and Pain Perdu, or stop in later to taste their world famous catfish chips.
Enjoy a beautiful view of the bayou while stopping in at the original Spahr's Seafood location in Des Allemands. Open since 1968, taste their famous catfish chips and wash it down with a Bloody Mary. Their friendly staff will be sure to make your dining experience memorable.