Wander Off the Eatin' Path
Coming May 2018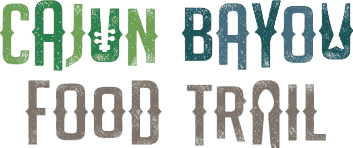 Plan a visit to Louisiana's Cajun Bayou in Lafourche Parish to get on the Cajun Bayou Food Trail.
Here you won't find chicken and sausage gumbo or soft shell crab on any map. And just try entering boudin balls into your GPS.
But, stop and ask a local for directions to the best crawfish etouffee in Lafourche Parish and you'll likely find yourself a ways off the main road on a journey unlike any other, following the bayou as it snakes through wetlands and rural Cajun communities to an unforgettable dining experience.
​

Here, you will experience the heart and soul of Cajun cooking, rooted in generations of traditions and family recipes. But, this one-of-a kind adventure can only be found if you're willing to go out of your way and wander off the beaten path. Or as we prefer to say in Lafourche Parish, off the eatin' path.
Stay up-to-date on the Cajun Bayou Food Trail by liking us on Facebook or signing up for our e-newsletter (below) to learn about inclusive trail promotions and hear the stories of our local culinary icons.