Politz's Restaurant
This Thibodaux staple has been around for many decades serving up some of the best Cajun food in the area. Enjoy fried shrimp, daily lunch specials, poboys, gumbo, and more.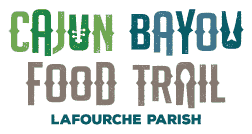 Stop by this old-fashioned Cajun meat market specializing in fresh cuts of meat as well as beef jerky, boudin, hogshead cheese, turkey cheese, and many other Cajun products.
Big Mikes BBQ is the best place to find award-winning BBQ. A local staple in Thibodaux, enjoy all your smoked favorites such as brisket, chicken, sausage, pulled pork, ribs, and more! Everything on the menu is delicious.
Cher-Amie's specializes in fresh seafood in a comfortable and casual setting. Choose from an authentic Cajun seafood boil, something hot off the grill, or a variety of seafood platters. One of the three restaurants on the Trail owned by the Cheramie family, this spot is filled with warm hospitality and the tastiest cuisine.