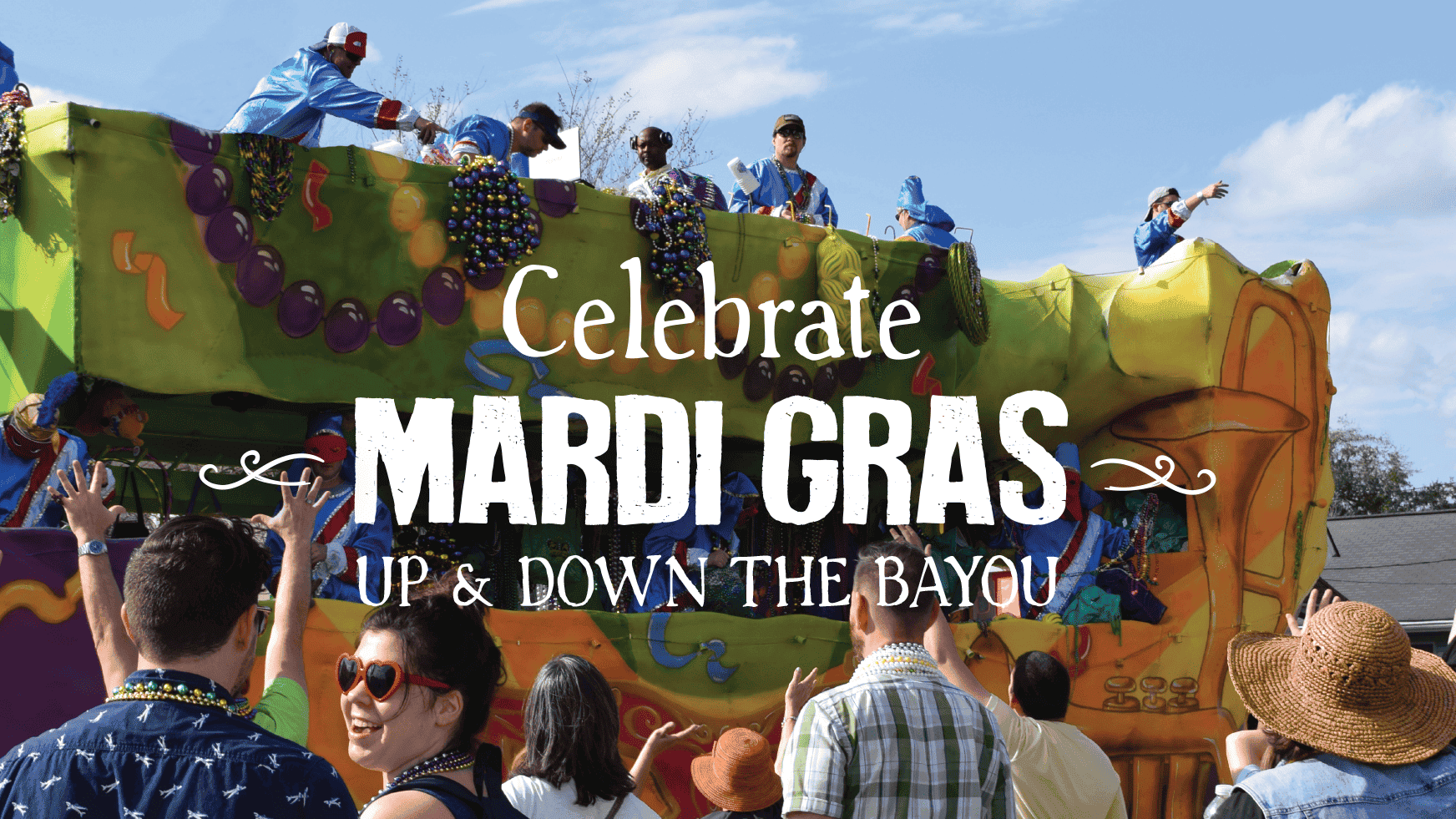 This year, Mardi Gras is back on the Bayou and better than ever! Because COVID put a damper on last year's celebrations, we have a lot of Mardi Gras to make up for in 2022. Not to worry … because we know how to celebrate here on the Bayou! From February 20 to March 1 (Fat Tuesday), krewes will be parading throughout Louisiana's Cajun Bayou. You can find all the parade routes HERE. We recommend that you practice catching your throws now, just so you'll be prepared in a couple of weeks. Grab some beads and get ready for some reveling … and laissez les bon temps rouler!
Sunday, February 20
Krewe of Shaka in Thibodaux, 12:30 p.m.
Krewe of Ambrosia in Thibodaux, 2:00 p.m.

Saturday, February 26
Krewe of Apollo in Lockport, 12:00 p.m.

Sunday, February 27
Krewe of Cleophas in Thibodaux, 12:30 p.m.
Krewe of Chronos in Thibodaux, 1:30 p.m.

Tuesday, March 1
Krewe of Gheens in Gheens, 11:00 a.m.
Krewe des Couyons in Golden Meadow, 12:00 p.m.
Krewe of Ghana in Thibodaux, 1:00 p.m.
Krewe of Choupic in Chackbay, 1:00 p.m.

And if you find yourself hungry and in the Mardi Gras spirit with all these parades, here are the best spots to get some king cake. We hope you're the lucky one who finds the baby inside!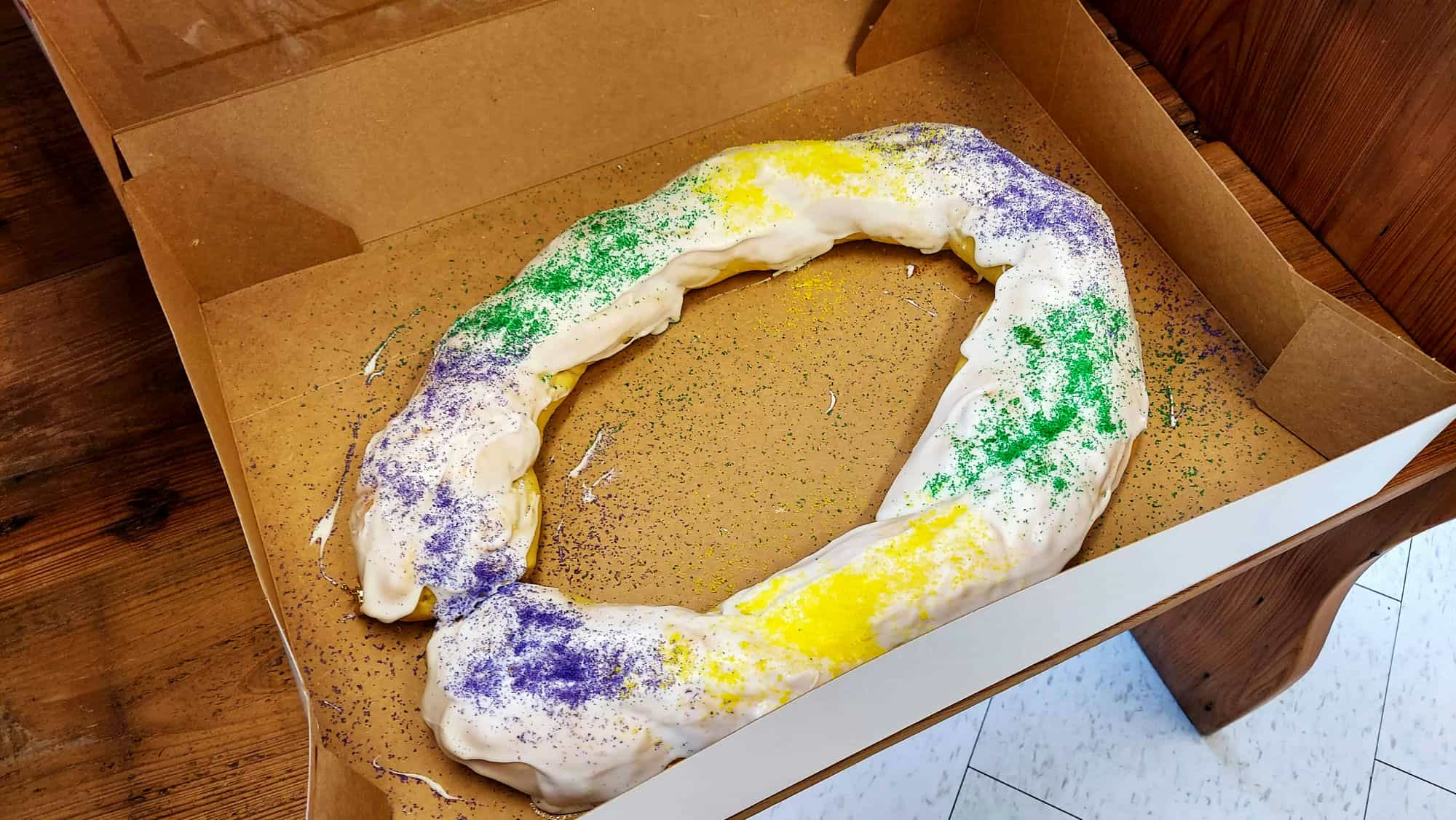 The Willow Café
713 West Third Street, Thibodaux, LA 70301
985-448-0444

Ninette's Cake Shop
1050 S. Acadia Road, Thibodaux, LA 70301
985-447-1714

The Cake Shop
305 Crescent Avenue, Lockport, LA 70374
985-532-6339

Spahr's Seafood (featuring king cake beignets)
601 W. Fourth Street, Thibodaux, LA 70301
3682 Highway 90 E., Des Allemands, LA 70030
16816 Highway 3235, Galliano, LA 70345
985-448-0487

Alumni Grill (featuring king cake cheesecake and milkshakes)
1130 LA-1, Thibodaux, LA 70301
985-492-1324

Cajun Pecan House
14808 W. Main Street, Cut Off, LA 70345
985-632-2337

If you're interested in celebrating Mardi Gras with us but can't make it to Louisiana's Cajun Bayou to party in person, Cajun Pecan House ships its king cakes nationwide, offering the tastes of Carnival delivered right to your front door.

Have the perfect Mardi Gras outfit? Trying a king cake milkshake for the first time? Celebrating at home with your own king cake? Be sure to share it with us on social media using the hashtag #CajunBayouMardiGras.
---