Here on the bayou, we've got plenty of Mardi Gras events in the works - and unlike some of our larger, neighboring cities, you can actually enjoy them without elbowing your way through crowds of tourists. If you're lucky enough to find yourself in Lafourche Parish this February, here are a few of the Mardi Gras festivities you can look forward to.
INDULGE IN SOME KING CAKE.
The rest of the country may decide to ease off decadent desserts starting on January 1st, but we like to put that off until March.
King cake is traditionally associated with the festival of Epiphany. King cakes typically have a small, plastic baby inside - whoever gets the piece with a baby is blessed with good luck (but may have to host the next party, depending on who you ask). More importantly, it's housed in delicious brioche and capped off with frosting and the can't-miss purple, yellow and gold sprinkles.
It's a treat you can only fully enjoy when you find yourself in Louisiana for Mardi Gras. You can enjoy a slice of king cake this time of year at just about any of our bakeries - but start off with the most famous king cake in the region at Cajun Pecan House, or stop by Spahr's Seafood if you want to pair your king cake beignets with a mean bloody mary.
TAKE THE WHOLE FAMILY TO PARADES.
Parades are an essential part of any Mardi Gras celebration. Whether you're a Louisiana local or visiting for the first time, you can't get through February without enjoying a few good parades, and reaching your hand up to catch some beads (or any other surprise throws that might be in store this year!).
Enjoy two full weeks of parades, all leading up to the four parades on Mardi Gras day. Whether you're determined to catch the stilt walkers with the Krewe of Chronos, or you'd rather admire the home-made floats crafted by the Krewe of Gheens, there's one thing in common with all of our parades: you'll get a front-row seat to the action. Our parades are family-friendly, and the kids will have plenty of elaborate costumes and lively music to keep their attention. Check out our full parade calendar to start planning.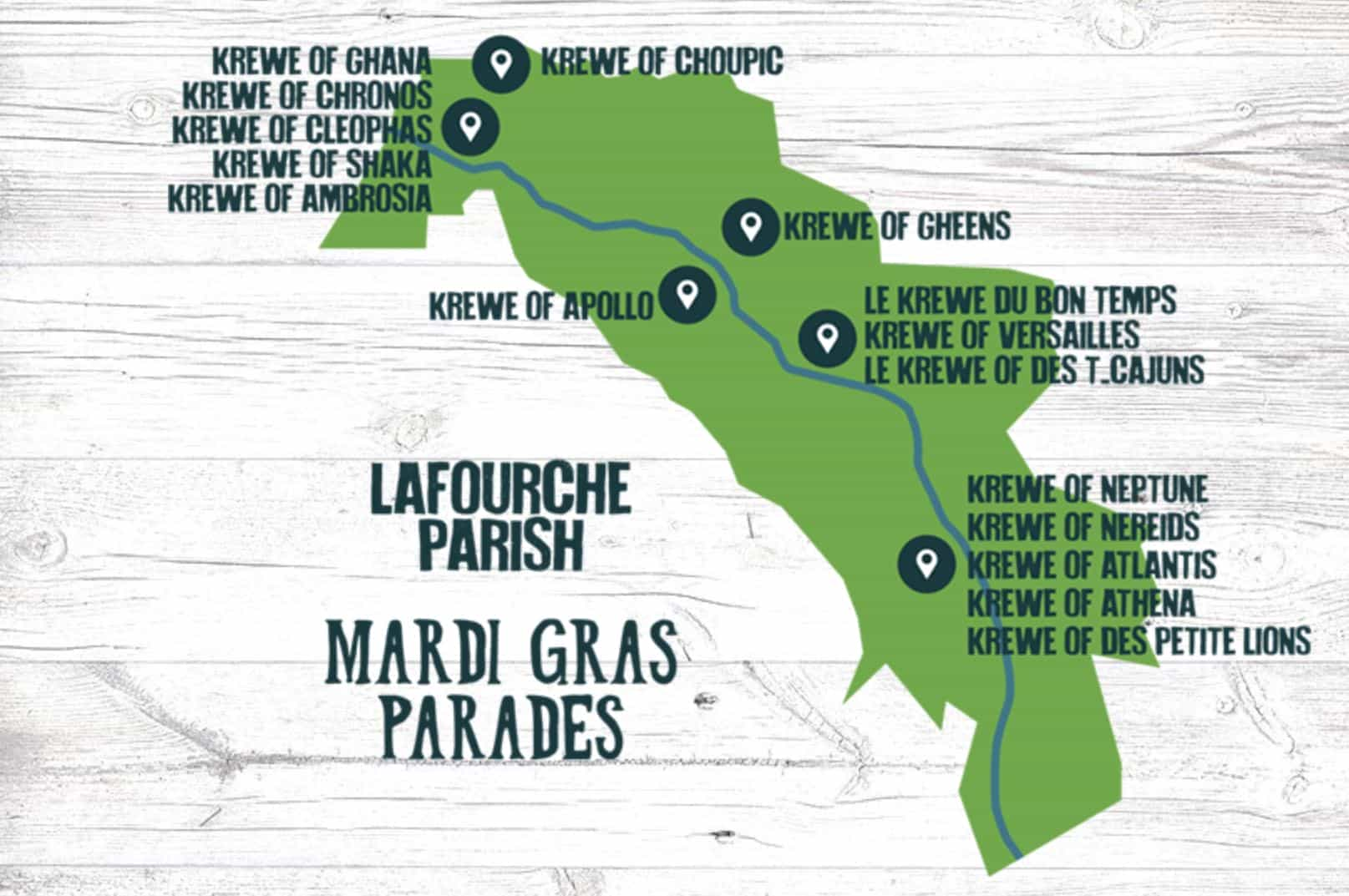 STOP FOR A SNACK.
Cajuns are known for our delicious food - so try the most authentic stuff you can get. Fried shrimp comes in handy when the kids are famished: take a break from the parade scene to get some genuine Cajun food at Cher Amie's Seafood Restaurant.
Luckily for you, Mardi Gras also happens at the same time as crawfish season. You can only enjoy this southern delicacy for a few months out of the year - so if you catch the delicious aroma of Louisiana Crawfish Boil and seafood as you spend time around town, dip inside for a pound of fresh crawfish. (If you're new here, ask anybody how to peel them. We all think we have the best method, and we'll be more than happy to prove it!).
If you're a true foodie looking to sample the best of Lafourche Parish, you'll just have to make a stop everywhere on the Cajun Bayou Food Trail. Hope you have an appetite.
KEEP THE KIDS OCCUPIED.
You might be perfectly content to get a delicious lunch and set up camp on the parade trail. But if you've got little ones in tow who need a change of scenery, we've got your back.
When they start getting antsy, take a detour to the Bayou Country Children's Museum. Younger kids and toddlers will be able to burn off some steam in a range of interactive exhibits, like the Bayou Gallery and the Offshore Supply Vessel, where they can play boat captain for a day.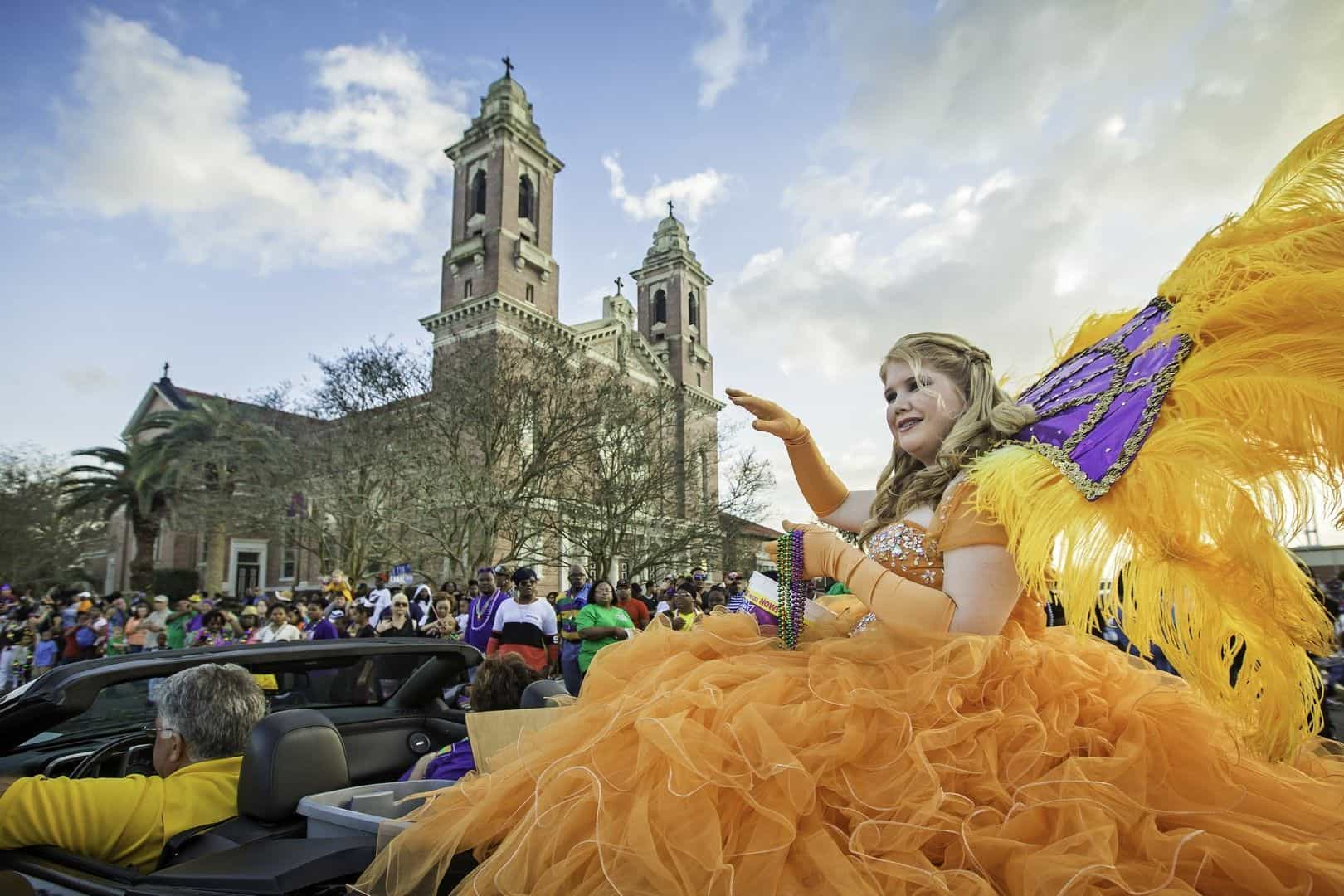 TAKE A FULL DAY TO CELEBRATE.
For us, Mardi Gras is a full-fledged holiday. It's a day for us to get colorful, enjoy lots of good food, and take time out from work to spend with family and friends. Join us this year and do the same!
REQUEST OR DOWNLOAD YOUR CAJUN BAYOU VISITORS GUIDE TODAY AND PLAN YOUR VISIT!
---